6 Ways To Attract More Customers And People Loving Your Brand
Customers are looking for companies they can keep purchasing from and brands they can become advocates of. They are looking for YOU.  Branding yourself is key to attract more customers to you when building your online business.  I will give you 6 ways to attract more customers and build that brand that will have your customers loving You. 
So what does it take to attract customers to like and eventually love your brand? Similar to relationships, the key is to understand your customers' needs, keep them engaged, and build relationships with them.
All of which are the key focus of Attraction Marketing. Attraction Marketing takes a more nurturing and building that know, like and trust factor. Here are 6 surefire ways to attract more customer love through Attraction Marketing.  
1. Understand them:
To A
ttract More Customers you have to know Who are they are. 
Understanding your customers' needs and wants is the first step towards creating more positive customer experiences.  Eventually lead to customer loyalty and love. The big question, though, is how do you go about understanding your customers' needs and providing these good experiences?  What are their pain, and problems.
If you're not growing your audience of interested, fresh people to talk to every single day… then you're in trouble. Building an Audience is the first critical part of the BUILD-ENGAGE-SELL.
2. Build Relationships
Go beyond looking at your customers as a single transaction. Loke to serve them. Dish up valuable content daliy that truly serves them and solves their problems. #socialmarkerting
Click To Tweet
Building trusting relationships with your customers by being attentive to their needs is the way to create positive customer experiences. This will insure you attract more customers. Track customers throughout their lifecycle and deliver relevant communications at each stage to nurture them through to advocacy.
Create Welcome campaigns to introduce them to your brand and values.  Win-Back campaigns if there has been a large gap in their purchase, or if they have unsubscribed to your service.
3. Stay Relevant to Your Brand.
With an abundance of emails, offers, and online retailers selling comparable products, customers are looking for the easiest and fastest way to find what they want and make their purchase.
Sending relevant product recommendations based on purchase history and online behavior is the most effective way to give customers what they want. 
Your ability to create (or share) valuable content that will make your audience engage with you is going to be a key in growing your business!
This is where you start using our proven Attraction Marketing principles to grow a thriving, successful business where you ATTRACT people into your business via of the value you're creating for them.
The beautiful thing is that it doesn't matter if you're creating the content yourself, or just sharing it. Eventually you'll want a good mix of created vs. curated content.  Either way you will begin to create the know, love, and trust factor with your audience ans quickly attract more customers.
4. Communication is key to Attract More Customers
These 5 skills tie into each other to to build a solid foundation for the future growth of your business.
You create an audience, and then you engage with that audience through producing (or sharing) valuable content… and now it's time to communicate with your tribe!
This is your ability to communicate effectively with one-to-many (webinars, zoom, teleconferences, etc.), or one-on-one (phone, Facebook messenger, skype, etc.)!
Communication is key to growing a successful home business because people join people and attract more customers.
People will want to do business with you because of the relationship you have built with them, and the trust you have earned from them… Both the relationship and trust will flourish as you create more and more and better and better content that solves their specific problems.
For instance, learning copywriting will make you better at ALL of the others because you learn how to construct a message to get a prospect's attention, create interest and desire, elicit emotions, and ask for (and get) the sell.
For example, a better speaker will do better with video, Facebook LIVES, Webinars, and of course one-on-one. Get better at one communication type, and all of your communication will improve.
Engaging in an ongoing two-way conversation with your customer gives your brand a more personal aspect instead of coming off as just a faceless company. Customer interaction and engagement with your brand is key if you want your customers to love you and to attract more customers to use.
4: Conversion is key to Attract More Customers
Your ability to convert leads into buyers is EVERYTHING… it's where the money is made in your business.  The fruit of your labor of building and engaging with your audience starts to fill your bank account.  Focus on the end result.  What do want people to buy?
Valuable Content + Free Give Away + Small Ticket Item = Sale
Many clam up when it comes time to ask for the sale, which keeps most home business owners flat broke.  Acknowledging and rewarding your customers throughout their lifecycle not only shows you appreciate them. It's also key to gain more customer love and attract more customers.
Like relationships, being acknowledged and feeling appreciated makes it more compelling and satisfying for them to stay.
Implement a reward series for your high-value and loyal customers through customized incentives, events, and social media in order to encourage advocacy and help you attract more people to you.
5: Know Your Brand if you want to attract more customers you need to brand YOU.
When it comes to growing a successful home business, one of the essential elements that people seem to struggle with is building a personal brand. (Or worse yet, they simply ignore it all together and add no real VALUE to the marketplace.)
Many believe that branding is only for big fortune 500 type companies, and not necessary for a home business owner, entrepreneur, or someone just getting started.
But nothing could be further from the truth.
Personal branding is a bit different than branding for corporate type companies. These companies have deep pockets for big ad spend. Their goal is to get the brand name out as far and as repetitive as possible. They pay millions of dollars for 'brand awareness.'
Most entrepreneurs don't have millions of dollars to waste on 'brand awareness'… Yet it's just as critical for home business owners to build a personal brand around themselves as it is for the large corporations to build their brands.
6: Success Factor to attract more customers to have Feedback
As an entrepreneur, it's impossible to see your business from an outside perspective.
You're so busy working from the inside that the outside view looking in is blind. It doesn't matter who you are, or how great you are at what you do… not getting feedback along the way can cost you a fortune.
For instance, have you ever seen someone in your personal life… maybe a family member or friend who is struggling in an area, and they just can't seem to fix the problem? While you sit there scratching your head because it's so obvious what's wrong?
You do that with your business too! Which is why you need consistent feedback from someone outside your business from someone who has the results you are seeking.
Simply put, feedback from an educated outside perspective helps put a spotlight on the strengths and weaknesses of your strategy. It overrides our blinders!
This is actually where a partner or a coach comes in handy to take an objective look at your business, and see what you should eliminate so that you can get the best results and start attracting more customers to You. 
THE TOP EARNER FRAMEWORK?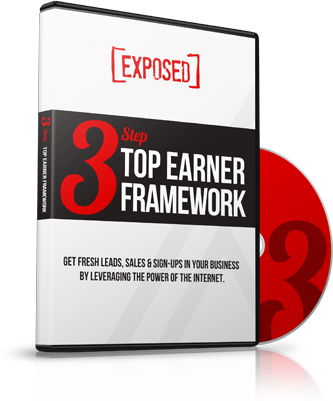 FINALLY Unlock the 3-Step Framework and Learn How to Get Fresh Leads, Sales & Sign-Ups in YOUR Business Leveraging the Power of the Internet.
I love to connect Business minded people that inspire me.
txt me @ 5122894388
Email: [email protected]
Facebook: Camille Tyler Coaching
Subscribe to my YouTube Channel: Camille Tyler Coaching
P.S. If You Aren't Generating Leads Into Your Business and Your Upline Doesn't have An ONLINE Marketing Blueprint In Place, Click Here For Access. (Unless you have too many leads already)
See Ya Next Time!  — Camille