So You Want To Achieve Mega Online Success?
You Looking to build an online business, This article explains exactly what it takes to achieve mega online success. Why it is personal branding so vital to your online success, and how you can implement Attraction Marketing into your business to attract more buyers, customers, and clients FAST!
Here is a checklist to get started.
Ask yourself this question.  How bad do I want it?

Is your vision clear.

What is today's action that you need to do?

How bad do you want it?

Stop thinking small and go big. Bigger goals are better than smaller ones.  Small goals will never get you what you really want.

Create a vision board think bigger never think smaller.

You must use daily affirmations to draw the universe to align with your goals, visions and dreams.
Step #1. To Achieve Mega Online Success – Know Yourself and Develop Your Personal Brand.
You MUST Develop you know Personal Brand.  A personal brand is who you are, what you stand for, the values you embrace, and the way in which you express those values.
Just as a company's brand helps to communicate its value to customers and stand out from the competition, a personal brand does the same for individuals, helping to communicate a unique identity and clear value to potential employers or clients.
You also need to know yourself, your skills, your strengths, your weaknesses.
That will help you determine what you should be doing and what you shouldn't be doing. If you're not very good on video, you should not be trying to be the next Mike Chang. 
There's just no point. If you're not the type of person who can sit down for 30 minutes, you're not going to be the type of person who's going to build a website around SEO. You need to know what you're good at and get other people to do the stuff you're not good at.
So you really need to have some introspection. Think about yourself, your skills, and your experiences. Be honest with yourself.
Then you can cross off the things you're not going to do. You don't have to do as much as you think to be successful.
In order to build a personal brand that accurately reflects your personal and professional identity, you first need to know who YOU are.
A strong brand identity doesn't happen overnight. You can't just pick a few colors and slap together a logo. You need to approach your design strategically.
Here is Your check list to develop YOUR Personal Brand 
Use Your name everywhere in the mart-place.

Register your name.com or your name.tv

Create a perfect Facebook Personal (so that people now you name)

You are NOT the company you work for.  (You the reason people buy from you.)

Show Your Personally, Have Fun.

Create a Profile that Stand out for you.

Create continuity with all profile on Social Media. 

Facebook Business Page

Facebook Groups.
Step #2. To Achieve Mega Online Success – Know Your Vision
Sometimes life changes anyway, but to reach your full potential,
you have to let go of your old limits, and those things that hold you in this place.
Set your vision your vision has to be big enough to achieve your goals. You must have it plastered all over the place.
A big vision will help you set big goals and get you what you want.
What Do You Really Want?
The question sounds deceptively simple, but it's often the most difficult to answer.
Allowing yourself to explore your deepest desires can be very frightening.
You may also not think you have the time to consider something as fanciful as what you want out of life, but it's important to remind yourself that a life of fulfillment does not usually happen by chance, but by design.
It's helpful to ask some thought-provoking questions to help you discover the possibilities of what you want out of life.
Consider every aspect of your life, personal and professional, tangible and intangible.
Contemplate all the important areas, family and friends, career and success, health and quality of life, spiritual connection and personal growth, and don't forget about fun and enjoyment.
Some tips to guide you to Achieve Mega Online Success.
Remember to ask why you want certain things

Think about what you want, not on what you don't want.

Be creative. Consider ideas that you never thought possible.

Focus on your wishes, not what others expect of you.

What really matters to you in life? Not what should matter, what does matter.

What would you like to have more of in your life?

Set aside money for a moment; what do you want in your career?

What are your secret passions and dreams?
Step #3. To Achieve Mega Online Success – Know Your Marketplace
The first thing you MUST know what the Marketplace wants, needs and desires.
The second thing you need to know about your marketplace. You have to know your marketplace inside and out.
You have to know what they want.
You can't take a square peg and try to put it into a round hole. You can't force your product idea on the marketplace. You have to know what they want.
You Must become a person of Service.
This is why I tell my coaching clients to write their sales copy first before creating their product because they'll have a good idea if they can sell it or not. It's much easier to put a couple of hours into thinking about your sales message than it is to putting a couple of months into creating a product that nobody wants.
What you think the world needs is probably not what they want. Don't make that mistake.
I've seen it made too many times. Even Amazon writes before creating. Amazon writes press releases for all their products before any are created, before any specs are even written up because they know they have to be able to sell it and hype it up before anybody is going to be interested in it in the first place. That's very important.
If you stay where you are, you will find it difficult to reach your full potential.
With a clearly defined target audience, it is much easier to determine where and how to market your company.
Here are some tips to help you define your target market.
Look at your current customer base.

Check out your competition.

Who are your competitors targeting?

Analyze your product/service.

Choose specific demographics to target.

Consider the psycho-graphics of your target.

Don't break down your target too far!

Remember, you can have more than one niche market.
Consider if your marketing message should be different for each niche.
If you can reach both niches effectively with the same message, then maybe you have broken down your market too far.
Also, if you find there are only 50 people that fit all of your criteria, maybe you should reevaluate your target.
The trick is to find that perfect balance to Achieve Mega Online Success. 
Step #4. To Achieve Mega Online Success – Understand Attraction Marketing
WHAT IS ATTRACTION MARKETING?
'Attraction Marketing' is a marketing strategy that ATTRACTS customers and clients to you who already want to buy what you have to offer.
The concepts of attraction marketing as a marketing strategy will help you set your brand apart, clearly define your target markets' wants and needs, and allow you to serve them better than the competition. 
The great thing is that you can refer to these activities anytime you need to get back on track. If you ever feel lost, or don't know what you should be doing daily, simply refer back to this 3-Step Formula of Build – Engage – Sell.
Let's break this all down even more to guarantee your business is being built on a rock-solid foundation!
Here is your check list To Achieve Mega Online Success by using Attraction marketing.
Vision & Personal Development Strategy

Personal Branding Strategy

Monetization Strategy

Content Creation & Content Marketing Strategy

Follow Up & Engagement Strategy

Traffic Strategy

Social Media Networking & Prospecting

Content Marketing
Step #5. To Achieve Mega Online Success – Make Plan and Work Your Plan
You need to know your plan and you need to take action to implement it. With the right tools and the right mindset you will find success.
Sometimes it's hard, but it can be simple with a plan. You just have to put your head down and grind, that's what it's all about.
When you let go, you allow yourself to accept the changes in life.
By making real changes within yourself, will insure that you get what you want
you must look at yourself.
You get what you want you have to set your own deadline and stick to it. You are your own boss.
Ask yourself this question if you are your own boss would you let yourself slide.
Are going to do what it takes to get what you want?
Whether you are in network marketing, affiliate marketing or traditional business a business plan is critical for your success.
The most important part of having a plan is the thinking and planning you put into it when you created it.
Business plans are no different. 
Stop your personal distraction and be focused on what you want. It's hard at first but, in time it gets easy to become inspired.
Look at your short term goals and your long-term vision and set a deadline for reaching out.
Here is your checklist to creative a killer marketing plan:
Set Your 5 Year, 1 Year, 6 Month, 90-Day and 1 Month Goals.

Develop Your Unique Selling Proposition (USP)

Identify Your Marketing Strategy & Learning & Development
Develop an Action Plan Budget
Marketing/Product Budget – 20% of commissions

Savings Budget – 10% of commissions

$5 a day for Facebook ads
Monthly
Publish at least 2 killers blog posts

Update my monthly goals on my business plan

Publish 10 videos on YouTube

Review the previous month's performance to look for areas of improvement

Send an email newsletter
Weekly
Send an email blast to my entire email list

Post at least 10 pictures on Instagram

Do at least 1 You tube video.

Attend a weekly webinar, meeting, etc.

Keep track of your business expenses for the week

Create Facebook ad
Daily
Publish a blog post

Do at least 3 Facebook posts

Comment on other's Facebook posts

Send 2-3 friend requests

Talk to 2-3 people a day

Follow up with the leads from the previous day

Read at least 20 minutes

An action plan keeps you focused and on track so you focus on the most important things to grow your business.

Print out your daily, weekly and monthly action plan. Keep it by your computer and in your day planner.
Step #6. To Achieve Mega Online Success – They see Opportunities & Figure how to Make Solutions.
Ok, ist's hard work isn't enough by itself alone. I think it's much better to think about smart work instead of hard work because hours/weeks/years spent doing the wrong things isn't going to get results.
When you are faced with a problem, how do you go about solving it?
Do you let it overwhelm you or do you flex your problem-solving muscles and figure out the best solution? 
You have to be in charge of setting your own goals and going after them. Will do whatever you need to do to get you want.
People who throw themselves at their problems often become frantic and confused. 
They take a haphazard approach to thinking, and then they are amazed when they find themselves floundering and making no progress.
Here is your checklist so you don't stuck in a rut.
Be curious about your readers' problems

Be curious about expansion and risk

Be curious about your honest interests

Be curious about the numbers you see every day

Be curious about failure

Be a Bulldog.
Step #7. To Achieve Mega Online Success –  Start a  Blog, It's Your Voice
Blogging Is Your Voice and is a long term Strategy.
Blogging allows individuals, businesses and media entities to publish and distribute their content cost effectively.
Your blogging voice is not something that you can find one time and forget about changing. 
As a Solopreneur, your business will start expanding. Suddenly your little business is creating a movement.
Maybe your brand messaging begins to change.
Will your tone and values be the same today as they will be 6 months from now? Maybe not.
If you're wondering whether there's any point for you to contribute in this crowded digital marketing landscape, this post is for you.
Before we dive in, let's get one thing clear:
Pretty much everything has already been written about. Right? 
However, you still have something to offer that no one else has…
Your unique blogging voice.
All Really great digital marketing strategies  require great content. Your content needs to be concise, helpful and memorable.
While keeping these elements in mind, your brand voice is what communicates your personality, builds a relationship with your potential customers, and makes you stand out.
But, how are you supposed to blend all these elements together?
How are you supposed to sound like yourself, and not like a fraud or straight up generic?
The answer comes down to the cardinal rule of writing:
When it comes to sitting down to write any piece of content, we can very quickly psyche ourselves out.
The inevitable imposer syndrome catches up with us, and we feel like we aren't in a position of authority to discuss this topic – let alone have an opinion about it.
As Solopreneurs, we are confronted with imposer syndrome more often than we would like. But, it's high time you put our fears in the back seat, strap in and start driving.
The world of blog writing is pretty saturated, but you can stand out, and make your content stand out.
Make your writing reflect you, no matter the topic.
These tips will give you a great head start, but don't be afraid to break the rules. There's only one you, after all.
Ask Your Self The following these MUST have questions Before creating a blog?
Do I understand that blogging is hard work?

Will I just do for a week or two and abandon it?

Do I understand WHY you are blogging?

Can I create information the people want to read?

Will I have the courage and confident to primate it?

Am I creative enough so I will not be boring?

Will I Experiment, Experiment, Experiment?

Can I push myself out of my comfort zone to improve my ability to write website copy?

Can I define and Understand my Blog Audience?

Will I convey my Unique Angle?
Here is a check a blogging check so people will read:
The title tells you what to expect

They're easy to skim for important information

You always know how much is left

It's easy to put down and come back where you left off

They can break complex topics down into digestible chunks
Step #8. To Achieve Mega Online Success – Get Started With Affiliate Marketing
The idea behind it is that you promote other people's products, often through an affiliate network, earning a commission if people actually end up buying thanks to your marketing.
It's based on revenue sharing. If you have a product and want to sell more, you can offer promoters a financial incentive through an affiliate program.
If you have no product and want to make money, then you can promote a product that you feel has value and earn an income from it as an affiliate marketer.
The best definition of what affiliate marketing is can be found on Pat Flynn's Smart Passive Income:
Affiliate marketing is the process of earning a commission by promoting other people's (or company's) products. You find a product you like, promote it to others and earn a piece of the profit for each sale that you make.
I use My Lead System Pro or MLSP, is an affiliate program that teaches network marketers attraction marketing. Attraction marketing is the concept of leading with value to attract your perfect prospects to you.
What They Won't Tell You About My Lead System Pro with Ray Higton
"Take this blog for example, on almost any given day we put out training and education to help network marketers which in turn attracts them to us. The training I have received from My Lead System Pro since I've been involved in late 2009, has helped me attract a lot of leads to me, get traffic to my site and become the top earner in my network marketing business. MLSP combines a way to earn commissions with cutting edge training for today's network marketer."
Step #9. To Achieve Mega Online Success –  Set Up an E-Commerce Site
Online retail is a booming business. But I've seen too many eCommerce businesses struggle to get traction.
It's taken me years to learn everything included in this page.
Use the information here to set up your eCommerce store, protect yourself legally, get your finances in order, market and sell your product, and start building your store.
There's nothing more rewarding starting a business from nothing and watching it grow. You build it up and no one can take it from you.
Building an ecommerce business takes more than choosing a brand name, writing product listings, and starting to sell products online.
Even the best business ideas can flop if you aren't driving enough traffic to your site. Prefer a step-by-step video course? 
Check out Ecommerce Business Blueprint.
Research Ecommerce Business Models Checklist:
Research Ecommerce Business Models

Start Ecommerce Niche Research

Validate Target Market And Product Ideas

Register Your Ecommerce Business & Brand Name

Pick Your Store's Name

Get Your Employer Identification Number

Apply For Business Licenses And Permits

Find The Right Vendors
Step #10. To Achieve Mega Online Success – Create a Digital Product or Course
What Is Digital Product Creation?
Digital product creation is the process of creating non-physical products which customers can download from your website or a digital marketplace dedicated to products of this type.
How Digital Product Creation Works?
Everyone has a skill or area of expertise you can teach to others, and that other people want to know about.
This can be something as mundane as your favorite hobby, as complex as relationships, or as popular as how to lose weight and keep it off forever.
Years ago you might only be able to share this knowledge with other people through direct mail video or printed products, or via evening classes.
The age of the Internet means that digital products allow you to solve other people's problems from the comfort of your home, and they get the answers to their particular questions almost immediately, and in a format they can use on their home computer, or even on their smartphone.
Start with Thinking want your audience needs and
how to make one that YOUR audience will actually buy
.
Step 1: Survey Your Audience to Find a Problem You Can Solve.
Step 2: Pick a Problem to Focus on for Your Product.
Step 3: Organize and Format Your Content.
Step 4: Find Beta Testers  Now it's time to get feedback 
Step 5: Revise and Publish
How To Make Money From Digital Products?
The first step in creating a successful digital product is to research your market before you do anything else. If we look at the example of downloadable knitting patterns this is a market that might be profitable for you.
Looking at the example of a golf product on how to improve your swing, we can guarantee that the right product in this market will be profitable.
Never assume that a particular digital product will be successful because you think it's a great idea – a market either exists, or it doesn't, and if you create a product for a non-existent market you won't make very much money.
Once you've established that a market exists for your product you then need to go about creating it. This can be as simple as putting the information together in Microsoft Word and then compiling it as a PDF file, or you might take the route of interviewing several experts on a particular topic and then assembling that as an audio product.
So a bet you are asking, What kind of digital product are you going to make?
Here is you checklist of thing you can consider.
An online course?

An eBook?

An email course?

A workshop?

A printable template or worksheet?

Or something else entirely?
Picking the right format for your product is crucial.
Digital Products Can Change Everything for Your Business
Passive income isn't a pipe dream.
It's something you can get by creating and selling digital products based on your audience's most pressing problems.
It takes many hours of hard work (sorry if you're shooting for a 4-hour work week), but you can generate sales and deliver products without any active effort.
T

he One thing You Must Change You to Get the You Want.  
THE TOP EARNER FRAMEWORK?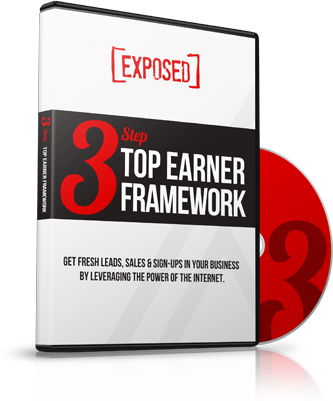 FINALLY Unlock the 3-Step Framework and Learn How to Get Fresh Leads, Sales & Sign-Ups in YOUR Business Leveraging the Power of the Internet.
In conclusion if you want to really get what you want in life you have to take massive action.
The big question is are you ready to go?  If you are, just go for it.
ATTRACTION MARKETING BUNDLE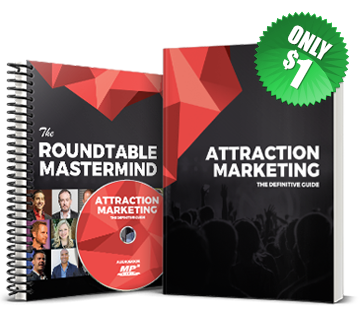 Get a 68-page "all-inclusive" e-book, 82-min mp3 audiobook, and a roundtable mastermind to help you attract buyers for YOUR business.